Updates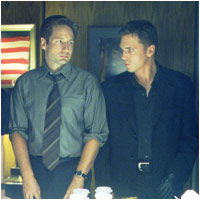 9/22/02: Tons of new recs this time around. Over on the Miscellaneous Page I have a ton of new recs there, in a whole variety of fandoms. A few new Due South Recs. Several new Buffy/Angel Recs, including one gen story. (I know gen, I'm not sure what happened.) A couple of Smallville Recs. A few X-Over Recs, there's another gen rec there too. I know, don't ask. I'm not sure what's up with the gen recs. Plus, shockingly enough another new Sentinel Rec. Added a new fandom to the list. There was a lull where nothing new was popping up in my favorite fandoms. So I succumed to the lure of Alan Rickman and there is now a whole page of Harry Potter Recs. Quit looking at me like that. Last, but not least a new X-Men Rec. Updated the Links Page, fixed some broken ones and added new ones.

7/20/02: Finally finished up the Smallville Recs. I had to do some judicious paring down of the recs so I could get them done. Some of the stories I just couldn't remember or get that worked up over when I re-read them. So they just had to go. There are still plenty new ones there. The bloom sort of fell off the rose for me when it comes to SV. Maybe I can get worked up about it when the next season starts. We'll see. Well, the Gunn/Wesley Archive has found itself a new home and is now back up and running. Which means I could finally update the Buffy/Angel Recs. (Which I did a little paring down of too, though not as much.) Fixed all the broken links from the old archive and added a bunch of new recs. So check it out. I forgot to mention it, but the other day I updated the Once a Thief Recs, fixed links that were broken when an archive moved. I thought I'd uploaded it already, but someone was kind enough to point out to me that I hadn't. I loaded the fixed version onto the web a few days ago and just forgot to mention it. Also fixed some broken links on the the Due South, X-Files, Highlander, and X-Men pages. If you see any more, please let me know.

7/11/02: Added a couple of new features to the site courtesy of Bravenet. Add a Link, where you can add your own links to my site, if they aren't already listed here. Only requirement is that they be slash. Also, added a Guestmap to the site. It's pretty cool. So check it out too.

7/4/02: The Authors Section was updated this time around. To Terlonian's Page I added Quicksand Part 10 and 11. Also, I'm proud to announce that we have a new author on the site. Rebop has recently joined us. She writes some great X-Men slash. Check out Rebop's Stories here.

7/3/02: Heh, this bit by bit thing is working out. I've got more recs updated finally. This time it's all Due South Recs. There are 8, count them 8 new recs for you here. Also, I fixed a few links on the Oz recs pages. Removed a few that were broken, I'm hoping to find new links, but I'm not sure that I will. I'll give it a shot though.

7/1/02: More Updates. I am on a roll. This time around I've finished writing up the recs for the stories on the Miscellaneous Page. Man are there a ton of them. Check them out, you're sure to find something you like. Also, there is a new Highlander Rec up for a short little fic I stumbled on yesterday. I finally finished updating the Links page too. Fixed all the broken ones and added a bunch more. More updates to come in future weeks.

6/30/02: Decided to do a bunch of small updates instead of one big one. That way I won't be totally overwhelmed. So expect a lot of small updates to come in the future. Sometimes it might just be one page with tons of recs on it, other times various pages with just one on each one. This time around the recs fall into the later category. I've got a fabulous X-Files rec for you by a wonderful new male author in the fandom. I've been telling everyone I can about this story. It is so good and not to be missed. I've also got a Sentinel rec for you. The first one of those in quite some time. A series of stories that I think is just fabulous. I've got a great new X-Over rec that I wish I've stumbled across sooner. I have a new X-Men rec to add to the pile as well. There is a new Highlander rec for an absolutely fabulous story that is to good to be true. Since Ten Buck Fucks shut down I had to find new links for all my Hard Core Logo recs, so that page has been updated. Repaired some links and found alternative ones for some of the Oz recs as well. Added a new bitch or two to the Bitch Fest. I'm working on fixing all the broken links on the Links page, I'm also adding a bunch of new ones. That isn't quite ready yet though. I'll be another day or so on that.

6/28/02: I hated all the banner and pop-up ads on 0catch and my damn site kept disappearing. There was also the fear about getting TOSsed at any time. It was a little more stress than I really needed at the moment. Somewhere in my head I always thought of it as temporary, that I'd find someplace better eventually. Then yesterday Alice over at populli offered to host my site for free. A slash friendly, ad-free place to host my site. How could I not say yes? So I did. I'll leave the site up at 0catch.com for a while, with links leading to the new home. I'm so glad to have found a good slash friendly home. Thanks so much Alice. So the new site addy is: http://slashsluts.populli.net/warning.html.

6/22/02: Added some banners that Dichotomy made me to the index page. Later I may put them on their own page, but for now I'll show them off there. Thanks so much to Dichotomy for making me the lovel banners, I just love them.

6/20/02: Moved the site to 0catch.com. There will be another update with new recs coming soon. I'm working on it right now. I hope to have that done in a day or so. If you see any broken links or pictures not working let me know. Please. It would be much appreciated.




---